Welcome to the Three Oaks Township Public Library
We are back!
The library is now open for Library Service Appointments! Call 756-5621 to schedule your time to browse our shelves or work on a computer. Current hours are 11:00 - 4:00 Monday through Friday, closed Saturday and Sunday.  Please remember: Masks are required at all time. Occupancy is limited to 25% so please limit the size of your group and limit your visit to one hour. Computer time is limited to one hour per day, per patron. Curbside service is still available.  To place requests:  call 756-5621 and we will get your order ready for you. We can set up a time or you can all from the parking lot and we will bring the items out to you. Or you may place reserves yourself by logging into our catalog by scrolling down this page to the catalog link or clicking here:  https://threeoaks.biblionix.com/catalog/   and as soon as the items are ready, we will call you. 
                         "Imagine Your Story" Summer Reading 2020

                                        Read alone, read with a friend, read out loud to a plant, read to baby, read to a pet, read at the beach - imagine reading anywhere with anyone!  Our community goal is 10,000 minutes of reading. Register online at:  https://wandooreader.com/threeoaks/three-oaks-community-summer-reading-2020  After registering you will build your avatar, log your minutes and book titles, complete challenges, and win prizes! Happy Reading!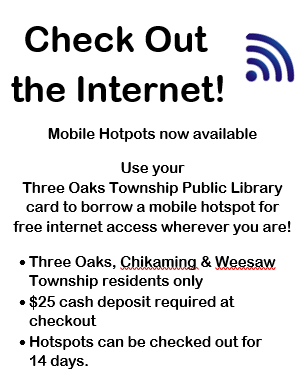 The Three Oaks Library Friends say "THANK YOU" to The Pokagon Fund for the grant to purchase four Little Free Libraries now located in Three Oaks.  

The Three Oaks Township Public Library (founded in 1859) is proud to be recognized as a Sesquicentennial Organization by the Historical Society of Michigan. 
The Three Oaks Library Friends say "Thank You" to The Pokagon Fund for the grant to purchase a defibrillator.                               

Check out our catalog! It features an easy way to log in to your account for renewals, reserves, requests, and more! There is also a list of what's hot and what's new. Log-in by clicking the above link, then enter your library card number (with the P) and your phone number in the top right corner.