Who We Are
Village of Three Oaks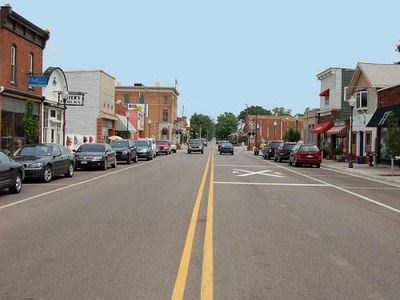 Three Oaks is named for massive oaks that stood near a town railroad crossing. The Village of Three Oaks boasts a live performance theater, several galleries, eclectic shops, a fine arts cinema, and on Saturdays during the summer "Music in the Park." The village hosts the largest Flag Day celebration in the nation. Start training now for the Three Oaks Spokes Club's annual "Apple Cider Century" bicycle event every September when more than 7,000 cyclists enjoy 100 miles of Harbor Country trails.
Three Oaks Township Public Library
The library is located in the heart of Three Oaks, housed in the historic E.K. Warren building, built in 1905. It was the home office of the Warren Featherbone Company from 1905 until 1928. From 1928 to 1952 the building was the Chamberlain Memorial Museum. It honored the the memory of the founder of Three Oaks, Harry Chamberlain. In 1952, the museum was donated to MSU and the library was moved to a smaller structure and the building fell into disrepair  In 1982, our building was purchased by the Bank of Three Oaks and under the direction of Larry Bubb, over one million dollars was spent in restoration. After the restoration was complete, the building was placed on the National Register of Historic Places by the US Department of Interior. The building housed various banks until 1999 when the Three Oaks Township Public Library entered into an agreement to purchase the building from Fifth-Third Bank. The library officially made its move on January 15, 2000 and has been there ever since.
A glimpse of Three Oaks history can be found throughout the building but especially in the Jane Ward Genealogy Room, depository for all things local history and genealogy. Many decades of important events in the community as reported in the local paper have been indexed and photographs of people and places in and around the town can be found in our files.  We offer genealogy assistancet to help get you started as you trace your family history using our index of the Three Oaks papers from the 1880's, including births, marriages and deaths.  Family history files and printed family histories are also available in our collection.  Plat maps and county atlases locate your family's property in the rural areas as far back as 1860.  Voter registration lists and tax records for Three Oaks village and township go back to 1856, when the township was created.  We have a large collection of township and small town histories from the Harbor Country area.  Yearbooks from Three Oaks High School, New Troy High School, and River Valley High School are also on the shelves.  For census help we rely on databases from www.mel.org.